Mazda Service in Lincoln , NE
Anderson Mazda of Lincoln, NE
is a full service Mazda dealership, offering the highest level of service and care for any of your vehicle needs. Our staff of mechanics and technicians bring years of experience and expertise to the table, in order to help get you back on the road safely and efficiently. From tire rotations and tune-ups, to engine repair and windshield replacement, we've got you covered!
Our team services new and used Mazdas, as well as any other make and model. Choosing Anderson Mazda of Lincoln means choosing trusted, quality care for you and your vehicle. Our commitment to quality extends beyond the focus on your car's health. We strive for open communication throughout the entire process, to keep you in the loop and educated along the way. We understand that your time is valuable, so we've invested in technologies and training to ensure reasonable and accurate wait times during your service with us. From start to finish, you'll be informed and heard, so we can better serve you along the way.
Book your car repair or service appointment with our expert staff by phone or online today. A member of our team will help you through the process, and find a time that fits in your schedule. We look forward to serving you, and having you back behind the wheel in no time.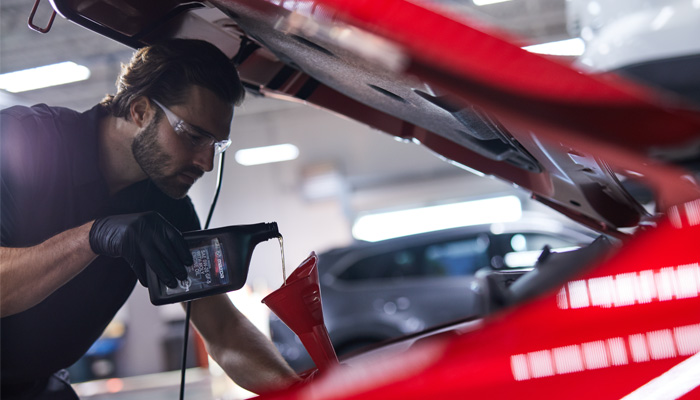 Anderson Mazda of Lincoln Service
| | |
| --- | --- |
| Monday | 7:00 AM - 6:00 PM |
| Tuesday | 7:00 AM - 6:00 PM |
| Wednesday | 7:00 AM - 6:00 PM |
| Thursday | 7:00 AM - 6:00 PM |
| Friday | 7:00 AM - 6:00 PM |
| Saturday | 7:30 AM - 1:00 PM |
| Sunday | Closed |
Types of Routine Maintenance

Oil Change
Not only can you expect improved fuel economy with an oil change, but keeping up on your oil changes improves your car's internal efficiency in general. Each type of car needs oil changes at different intervals. Not sure when to change your oil? No problem! Our team of experts have the answers and knowledge to give you the quality care and advice you are looking for.

Brake Service
We all know that brakes are one of the most important safety features of any vehicle. Keeping up on routine brake maintenance includes inspections and regular brake pad changes. Spotting the warning signs early helps make sure your vehicle is in optimum shape to respond your fellow drivers at any time.

Tire Care
When your vehicle's tires are properly inflated and cared for, you can enjoy improved fuel economy, performance, and handling. Temperature drops can create pressure problems and add to the wear and tear of the tires. By checking your tire pressure monthly, you'll have a better concept of the health of your car's tires. Anderson Mazda's team of service experts help make your vehicle's tires in top shape to respond to all road conditions.
Our Services Include:
Lube, Oil, & Filter Change
Front End Alignment
Tire Rotation
Replace / Adjust Brakes
Service Package
Muffler / Exhaust Repair
Coolant flush
Vehicle, Checkup
Transmission Flush
Electrical Service
Tire Balance
Maintenance (Wipers, Headlights, Etc.)
Filter Replacement
…And More!